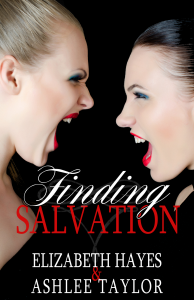 Book Description:
Becoming best friends was easy. Becoming Sisters was a blessing. Two girls, with similar pasts, find solace together when all they had was each other. Madison and Charlotte were taken in by a good family, given the life they'd always dreamed, along with an overprotective big brother. As they got older Madison began to follow the path her mother lived. Charlotte, was afraid she'd lose everyone she'd come to love. When the wall of betrayal and lies they've built to protect themselves start to crumble, how well will their fragile bonds hold when their secrets come out?
Cover design by:
Add to Go

odReads:
https://www.goodreads.com/book/show/22589004-finding-salvation?ac=1
Meet the Authors:
Elizabeth Hayes Bio
So you want to know a little about me and get a sense of who I am. Well the first thing I can say is that I absolutely hate talking about myself. So bare with me as I let you in on who I am. My name is Elizabeth Hayes and I am from the Midwest. I have a few things I just happen to obsess over those include Hot pink and Zebra print, Unicorns, and cupcakes, and Books, I love to read and get lost in a book. I had thought about writing for a long time now and finally started to put words down. Ashlee and I are both new at this and our first book Finding Salvation is going to be thrown out there for you all to read. I must say I am having a hard time with this. I am the type of person that likes to know the outcome before I do anything. I want to know that this is going loved by most of you. The thing is I know that this book is going to be hopefully liked by some, hopefully loved by some, hated by some and just ok to some and I think I am finally ok with that. I am stepping out of my comfort zone. I hear that is a good thing. But with time everything will tell. So there you go! If you want to know more just ask.
Elizabeth's Facebook Author Page:
https://www.facebook.com/pages/Elizabeth-Hayes-Author/1416716698598330
Ashlee Taylor Bio:
Born to an Italian Mother and Filipino father, she grew up with a book in hand. Ashlee found her writing bug early on as a young child. Writing short stories and vignettes for fun. As she got older she found herself immersed in a passion for reading again. It was the book Fifty Shades of Grey that brought a renowned love for the written word. Swallowing every book she could get her hands on while befriending Authors and eventually becoming a beta reader and helping Authors work out critical scenes and help with plot progression. What stemmed from two women with and idea, gave way to the story Finding Salvation. Being friends with Elizabeth Hayes is unlike any other friendship she's had. They laugh at the same things, their ideas mirror one another at the same time their brains seem to work hand in hand. Elizabeth once told Ashlee that we needed a great story, unlike anything that's been written, something that follows real life than fantasy. In truth, Finding Salvation isn't the lives that Elizabeth & Ashlee have lived. But they are bits and pieces of lives, others have had. And they're not afraid to show how the other half lives. Ashlee's a mother of three, works very hard to keep them happy even though it doesn't take much. And one day hopes to tell the world the story about Nine times in one night. <3
Ashlee's Facebook Author Page:
https://www.facebook.com/AshleeTaylorAuthor
Elizabeth & Ashley's Facebook Author Page:
https://www.facebook.com/pages/Elizabeth-Hayes-Ashlee-Taylor/340646342749382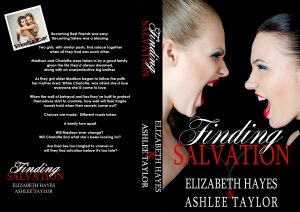 Giveaway:
$10 Amazon Gift Card, signed swag, Finding Salvation ARC (when ready)
a Rafflecopter giveaway